3W UV 3D laser marking machine for Fine material
(Model:Man-uv3w)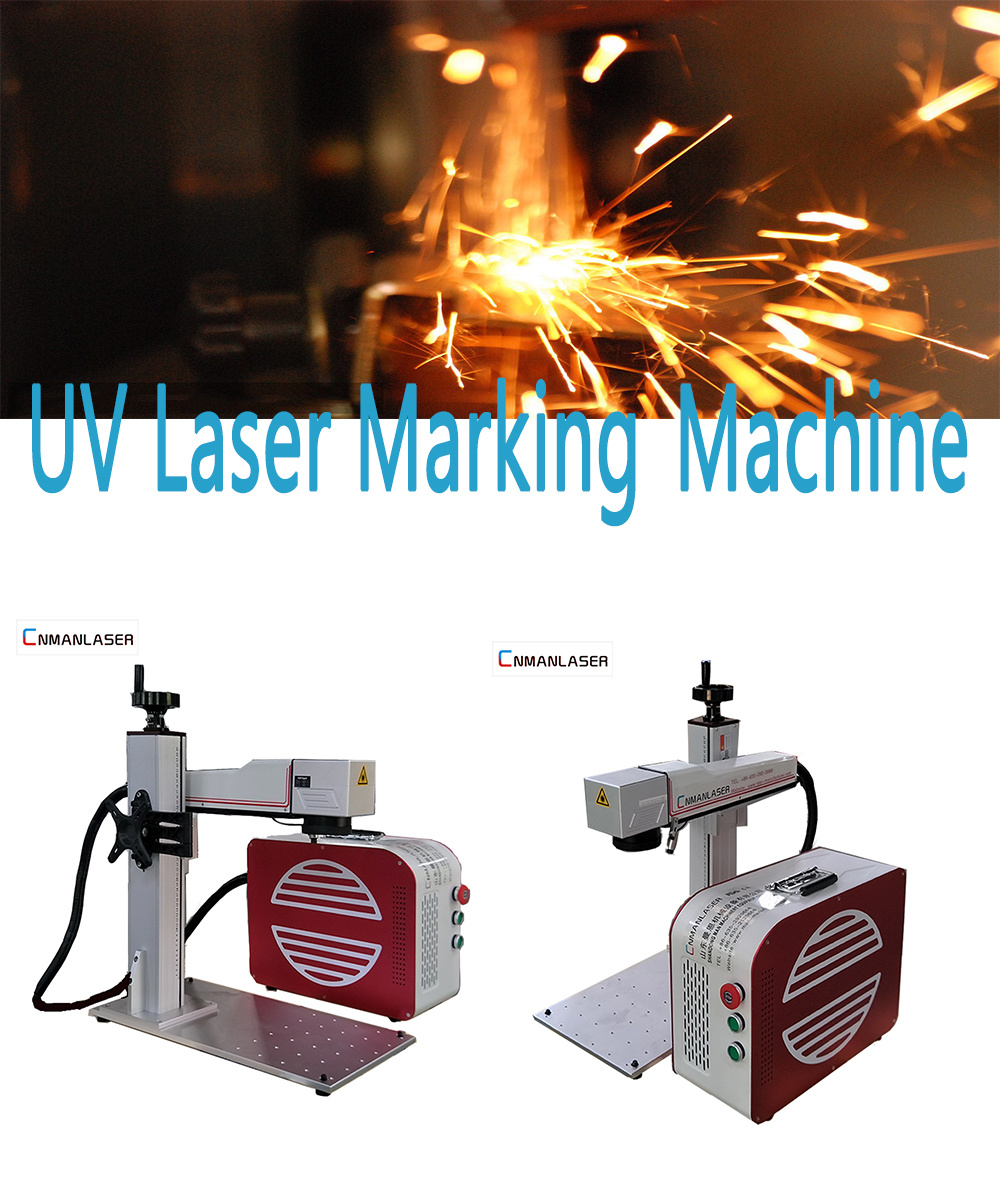 Product Introduction:
The 3D dynamic uv laser marking machine is one of the series of laser marking machines, but it is developed with 355nm UV laser. The uv laser marking machine uses intracavity frequency doubling technology compared with infrared laser. The 355 UV focusing spot is very small and can greatly reduce the mechanical deformation of materials and have little influence on processing heat. Because the uv laser marking machine is mainly used for ultra-fine marking and engraving, it is especially suitable for high-speed division of food, medical packaging materials, micropores, glass materials, and complex graphic cutting of silicon wafers.

The uv laser marking machine adopts imported core components and is equipped with high-speed and high-precision 3D galvanometer. Combined with the 3D special software and control system independently developed by our company, it can perfectly realize the fine processing of any curved surface workpiece without the focus phenomenon; The uv laser marker can also be used for deep engraving. The focus tracking in real time makes the processing efficiency and quality better than the traditional 2D marking machine. Realize the full realization of 3D marking function, leading laser processing into a new era. The three-dimensional UV laser machine adopts imported high-quality ultraviolet laser source. The 355nm uv light focuses on the spot, and the processing heat affected zone is very small. It is suitable for processing materials with large thermal radiation response. The uv laser marking machine is mainly used for superfine marking and special material marking,carving and cutting. Widely used in the high-end market of ultra-fine laser processing.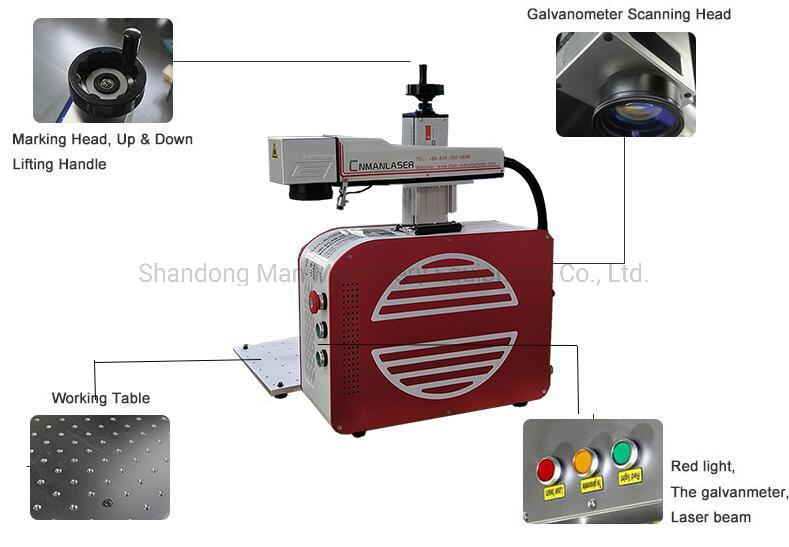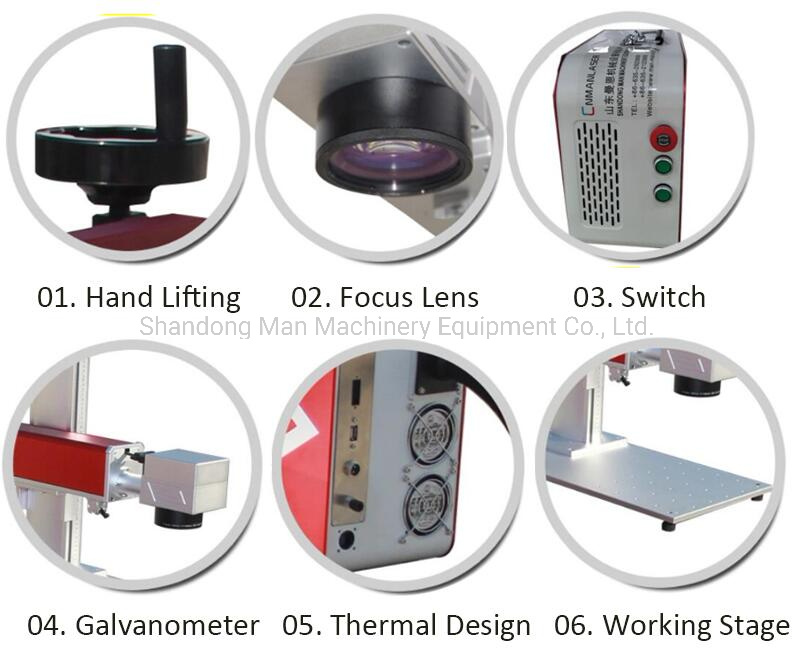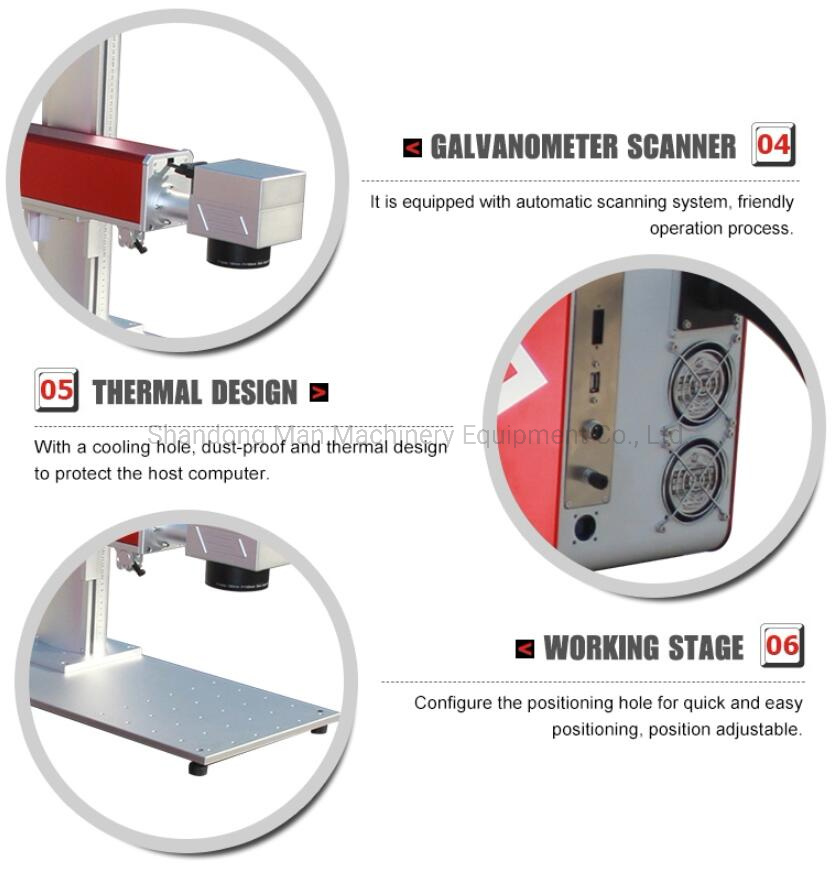 1. The uv laser marking machine has stable performance, small volume, low power consumption, high electro-optical conversion efficiency and long service life;

2. The laser spot output is very small, and the light mode is good, which is suitable for occasional markings such as fine graphics;

3. The laser beam quality is good, the output laser stability is high, the marking effect is easy to debug;

4. The uv laser marking machine has high average power and high repetition frequency, marking speed is faster;

5. The uv laser marking machine adopts marble working platform, which has good earthquake resistance and stress resistance, good flatness and high stability;

6. The product subverts the traditional 2D marking mode, achieving a variety of 3D marking modes such as bevel, step, cylinder, cone, spherical, and stretched surface;

7. The uv laser marking machine can achieve super large center angle marking, on the cylinder can hit the 117 ° center angle position..

8. On the marking workpiece, the target marking pattern is perfectly presented to avoid deformation such as elongation and tilt. Let the engraved pattern be closer to the original form.

9. Let the marking boundary no longer be "ignored"! The marking effect of each position on the workpiece is uniform and consistent;

10. 355nm output wavelength reduces the thermal impact on the workpiece, the heat affected area is very small, there is no thermal effect, the material is not deformed and not burnt;

11. The uv laser marking machine adopts the upper and lower sliding door closed processing in the design, and the uv laser marker uses the high-quality special filter to protect the plexiglass to make a special observation window to create the ultimate protective performance of the whole machine;

12.
The uv laser marking machine can be equipped with automatic lifting, rotating and other functions.

It is suitable for processing materials with large thermal amplitude response. It can be matched with production line, automatic loading and unloading, automatic feeding and discharging, mainly used for ultra-fine marking and engraving. It is especially suitable for high-speed division of food, medical packaging and glass materials. Silicon wafers for applications such as complex graphics cutting.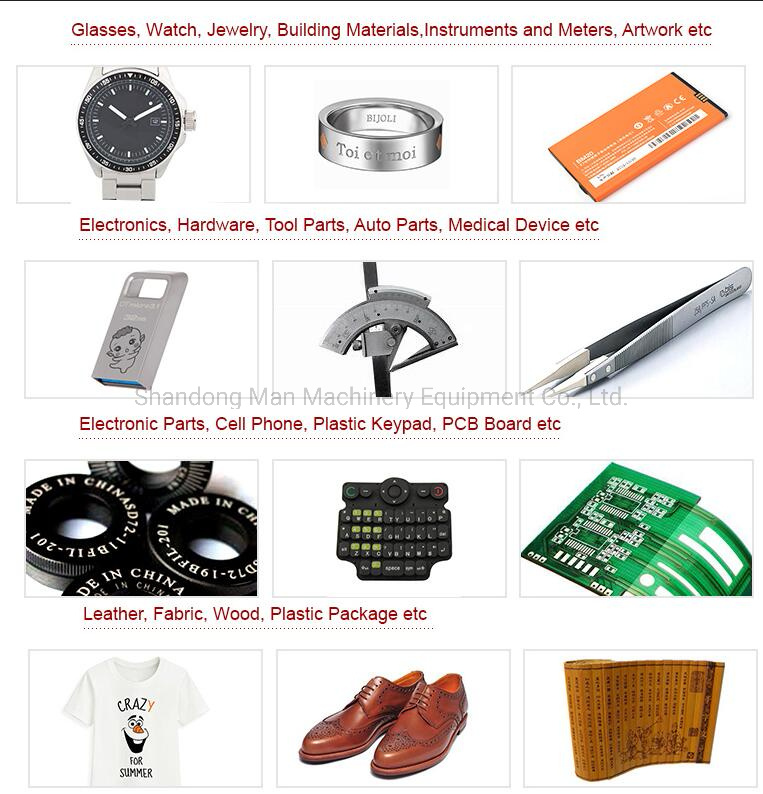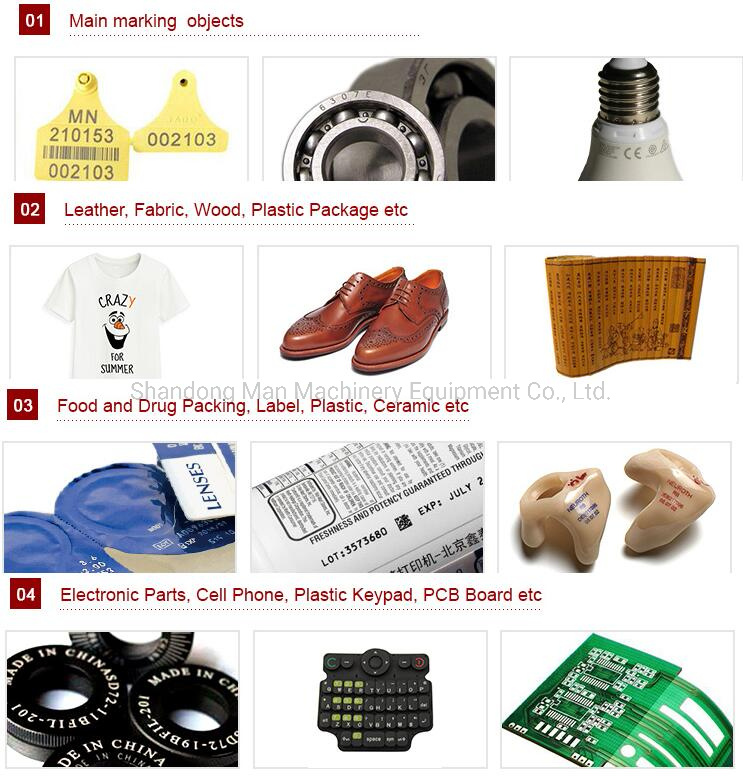 Model




3W/5W




7W/10W

Laser type/wave length




355nm




Laser output power




3W/5W




7W/10W

Beam quality

<1.1




<1.3

Marking speed




400 characters per second




500 characters per second

Repeated accuracy




±0.001mm




Working area




110×110mm or 180×180mm ( adjustable )




Machine power




800W




1200w

Power supply




380V/50-60Hz or 220V/50-60Hz




Minimum character




0.1mm




Minimum line width




0.015mm




Life of the laser machine




>100,000 hours




Cooling system




Water Cooling




Control interface




Standard USB




Overall dimensions




900mm×680mm×1200mm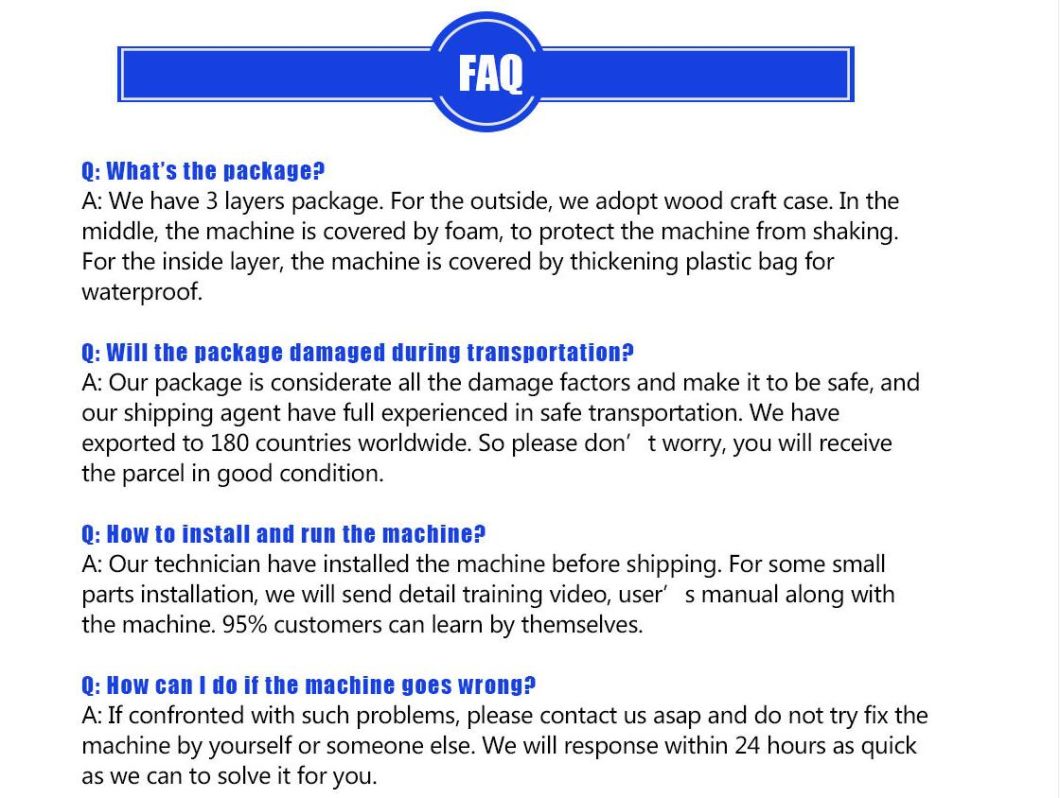 1.Company Information:
Shandong Man Machinery Equipment Co., LTD. mainly engaged in cross-border business for 10 years. At present,
the company operates more than 10000 kinds of products with more than 200 employees.
2.Quality Certification:
All the product are pass SGS . And most of products have CE FDA certification.
3.Shipping:
Most of our product can be shipped within1- 2 business days after payment.
And It will take 7-23 working days to your hand.
Additonally, we are teamed up with Fedex, DHL, DPD,UPS international parcels to offer you fast shipment and the lowest price.
Please inform us if you need common international courier way
4.Warranty:
Directly manufacturer fully gurantee for 3 years .
5.Refund Policy:
Returns accepted if product not as described, buyer pays return shipping fee;
or keep the product & agree refund with seller.
6.Pre-sale Service and After-sales Service:
10 year-old export experience and professional sales Team.
Online service and technical support within 12 hours per day within warranty time.