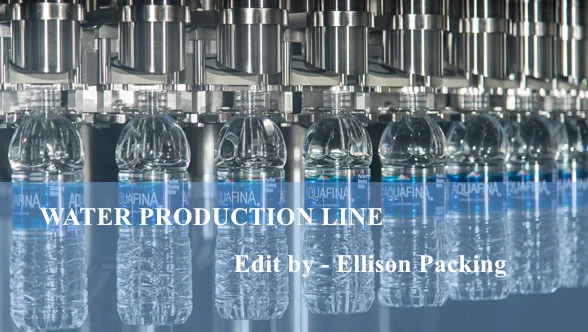 Fully Automatic Drinking Mineral Water Bottling Plant / Plastic Bottle Filling Machine



We offer complete solution for the water filling plant, including Water treatment system / Washing filling capping machine / Code sprayer / Automatic labeling machine / Automatic packing machine / Automatic Palletizer system
Parameters
Model
CGF14-12-4
CGF18-18-6
CGF24-24-8
CGF32-32-10
CGF40-40-12
Capacity(500ml/bottle/h)
1000-2000
3000-5000
6000-9000
10000-13000
14000-16000
Filling precision
≤+5mm(liquid level)
Filling pressure(MPa)
0.15-0.35
Filling temperature(ºC)
55-85
Total power
4.4
4.8
5.5
8
9
Weight(kg)
3200
4500
6500
7500
8500
Overall dimensions(mm)
2300*1800*2200
2600*2000*2200
3050*2300*2300
3650*2800*2400
4000*3150*2500
Description
This series of equipment is used for hot filling production of tea drinks, fruit juice drinks and other products. This series is a combination of sterilization, filling and sealing. The design is scientific and reasonable, so operate is simple. It is the preferred equipment for hot-filling drinks.
It adopts advanced technologies such as human-machine interface touch control system, PLC computer control, frequency converter control, etc. It has high degree of automation and easy operation.
The filling temperature of this machine is 55-95ºC hot filling, It adopts suspension air conveyor. When change the bottle, It only needs to adjust the conveying width, which is more efficient and labor-saving. Filling action is smooth, fast, high precision, reliable sealing, low material loss and other functions, avoid secondary pollution of materials effectively.
Electric configurations


Item
Parts Name
Brand
Brand
1
PLC
Siemens
Germany
2
Inverter
3
Touch Screen
4
Switch
5
Contactor
6
Relayer
7
Solenoid Valve
AIRTAC
Taiwan
8
Drive motor
FEITUO
Swiss
9
Reducer
CNP
China
10
Water Pump
SKF
China
11
Main Bearing
AUTONICS
Sweden
12
Sensor
AIRTAC
Korea
13
Air component
ABB
Taiwan
Auxiliary machines
| | |
| --- | --- |
| 1, Air filter | There is filter screen installed on the air blower. It will help to purify air to blow bottles; |
| 2, Washing tube | All the washing tubes are changed to stainless steel 304 or 316 intead of plastic tubes; |
| 3, Arm controller | The arm controller will easy to operate the machine for workers; |
| 4, Electric control box | Stainless steel control cabinet. All the electric parts well-known brand; |
| 5, Lubrication system | All the machines will have the central lubrication system which will connect to each bearing sets on the machine; |
| 6, Online cap washing tunnel | The online washing tunnel will be supplied for the filling machine basing on the processing requirement. The washing steps will be customize basing on the requirement; |
| 7, Machine frame | All the fame is stainless steel 304 or 316, the thickness is 1.5-2mmm; |
Complete Production Line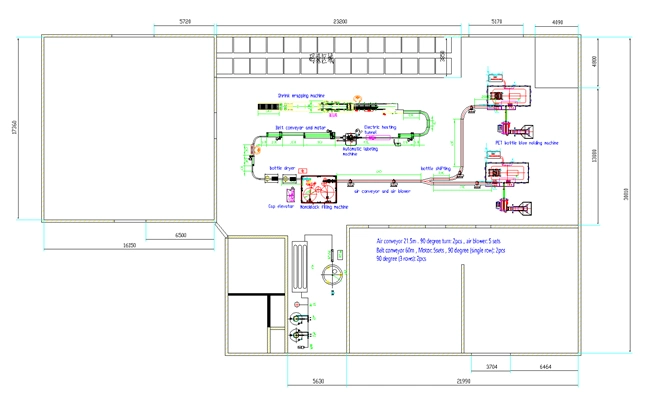 Item
Description & Function
1
Water treatment system
- Pre-treatment filter tanks
- Reverse osmosis
- Sterilizing machines
- Booster pump
- Water storage tanks
2
Water filling system
- Washing-filling-capping machine
- Cap elevator
- Cap washing tunnel
- Cap sorter
- Bottle feeding system
3
Packing System
- Sleeve labeling machine / OPP hot glue labeling machine / Stick labeling machine
- Shrink wrapping machine / Carton packing machine
4
PET bottle blow molding system
- Preform unscrambler
- Bottle blowing machine
- Auxiliary machines
5
Conveyor system
- Air conveyor
- Air blower
- Belt conveyor
- Conveyor motor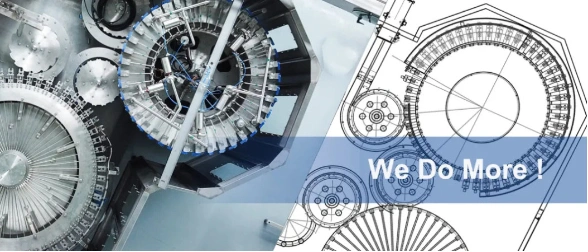 1, Water treatment system
Raw water pump:
connect to raw water,we supplier the best supplier Nanfang pump or Grundfos pump.
Silica sand filter:
as a filter medium can effectively intercept and remove suspended matter, organic matter and some heavy metal ions in water under certain pressure, thus reducing the turbidity of water.
Active carbon filter:
can filter chlorine content in water: <0.1PPM,It can also reduce turbidity, chroma of water, purify water quality.
Sodium ion exchanger (softener)
: Is used to remove calcium and magnesium ions from water, thus obtaining softened water.
Precision filter:
Adopts PP filter membranes which has high filtering precision, less than 0.1um particles, strong ability of intercepting pollution and long service life.
Reverse osmosis:
Is composed of reverse osmosis membrane (RO), high pressure pump and washing system, It can intercept substances larger than 0.0001 micron. And allow water molecules to pass through.
UV:
After the RO system, the bacteria in the water are eliminated by using the UV sterilizing lamp.
Ozone:
It is a strong oxidant, which can quickly kill bacteria in water and air at a certain concentration.
Finished water tank:
Is used to store filtered pure water, which is connected with filling machine for application.
Different water sources with different equipment configurations. We will jointly choose the most suitable water treatment system for you!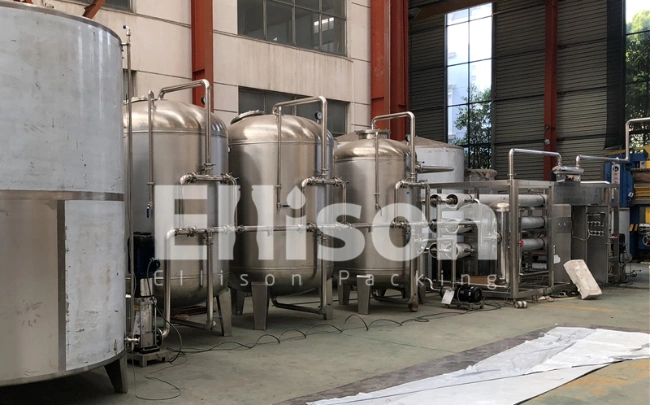 2, PET bottle blow molding system
It is a kind of equipment which can make plastic granules into hollow containers by blow molding process. It is mainly used in beverage and food industry.
Features of main body:
1). Stable performance with advanced PLC.
2). Automatic preform conveyer to save human cost.
3). Preform self-rotation and infrared pre-heater revolution assure the even distribution of heat, which improve the
bottle shaping rate, increase the production.
4). High adjusting performance to enable preheat the preforms perfectly by adjust the voltage control area in the PLC, which could adjust the temperature of the infrared lights in the pre-heater, and keep the proper temperature and humidity invariable.
5). High safeties with security automatic-locking device in each mechanical action, which will make the Production into a perfect safe environment, in case of the breakdown in certain procedure.
6). Introduce the FESTO air cylinder to avoid contamination and noise.
7). Satisfaction with different atmospheric pressure for blowing and mechanical action by dividing the blowing and action into three parts in the air pressure diagram of the machine.
8). Strong clamping force with high pressure and double crank links to lock the mould.
9). Two ways of operating: automatic and manual.
10). Low cost,high efficiency,easy operation and maintenance etc, profited from the fully automatic technological process.
12). Ideal cooling system make the finished bottles without any flaws.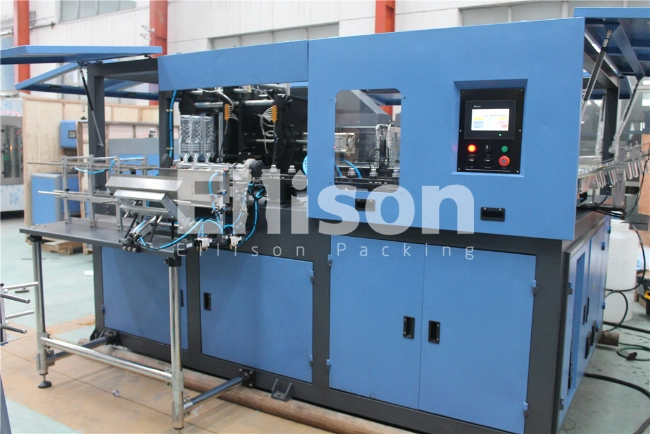 4, Labeling machine
1. Shrink Labeling Machine For Sleeve adpots PLC programmable controller, imported servo motor, servo driver,
Frequency converter and transducer.
2. Shrink Labeling Machine For Sleeve adopts the positioning module to ensure the casting label precise, rapid and Stable.
3. Our Shrink Labeling Machine For Sleeve not only has a highly precise position for casting label, but also withstand The perfect shape of the bottle after shrinkage.
Main parts list:
| | | | |
| --- | --- | --- | --- |
| No | Name | Brand | Manufacturer |
| 1 | SUS304 stainless steel | | South Korea |
| 2 | motor | TWT | Taiwan |
| 3 | Bearing | NSK MNB EZO IJK | Japan |
| 4 | stepper motor | Tamagawa | Japan |
| 5 | Stepping Driver | Ertl | Taiwan |
| 6 | PLC controller | Omron | Japan |
| 7 | Inverter | Delta | Taiwan |
| 8 | touch-screen | Weview | Taiwan |
| 9 | Contactor | Schneider | French |
| 10 | Sensor | SUNX | Japan |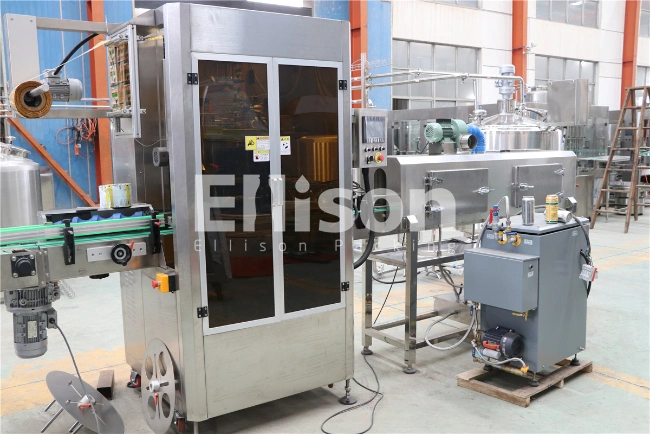 5, Final packing system
Specially designed for beverages, pure water, fruit juice, wine and other drinks. With full automatic functions of bottle transfer and arrange, film wrapping, sealing and cutting, shrinkage, cooling and other qualities. It adopts the world's advanced film thermostatic sealing technology, and the sealing is firmly cleaned. The PLC program is used for automatic circulation control, and the performance is stable and reliable. Three-layer heat insulation, good heat preservation performance, fast heating, energy saving.
Advantages:
1)Frequency control,Secondary bottle transport device.
2)The whole set which are push bottle,heat sealing cutting adopt pneumatic structure.
3)Inductive switch control film length.
4)Touch screen,PLC control system advanced reliability of the equipemtn function.
5)Circular wind machine ,resuare well-proportioned temperature of the shrink furnace.
6)Strong cooling system can reassure finalize the design quickly.
7)Heat-fast Teflon transport net,transport steady,high strength and stand wear and tear.
8)Frequency conversion timing net transportation structure.
9)The height of the conveyer belt can be made according to the user,adustable range±50mm
10)Bottle transport machine can satisfy the direction of the user,it can prolong and shorten
11)Pterygoid stainless iron heating system,durability.
12)Satisfy the bear storage rack device of the short duration for the product,assure consecutive work for the production line.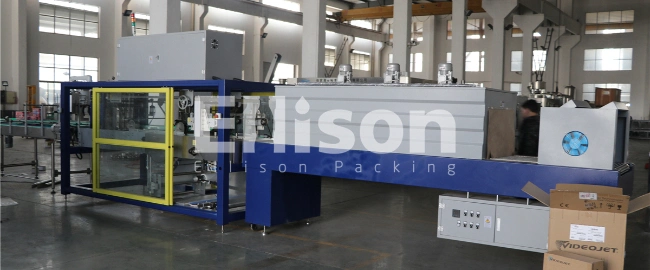 Customer visit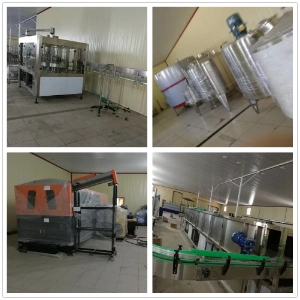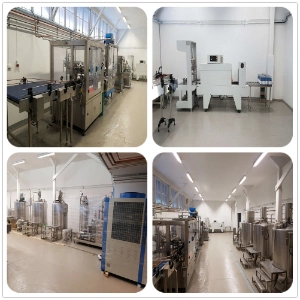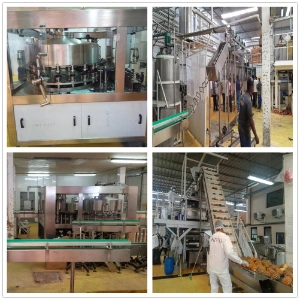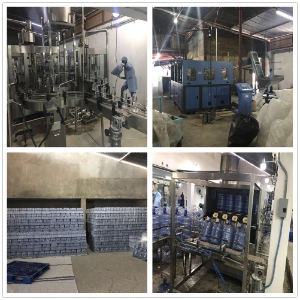 FAQ
Q: How to get an appropriate offer?
A: Please inform us:
1, production capacity per hour/per day/per month ... ...
2, filling liquid: water, juice, carbonated drink, beer or ... ...
3, bottle type: plastic bottle, glass bottle, can or ... ...
4, cap type: screw cap, crown cap, can lid or ... ...
5, for water treatment, it's better offer us the raw water quality report ... ...
Q: What can I do if I haven't gotten any clue of the production line? I just wanna open a factory and to do the business.
A: Don't worry about this; You can inform us:
1, the exact production you wanna deal with;
2, the budget of the production line; If no budget of the business, I will send you the popular machine in our factory for your ref;
3, we will help to design everything including the machine layout and factory layout;
Q: This is the first time I cooperate with your factory. How can I trust you about the machine quality?
A: Before ordering the machine, we will make the offer very clear. For example, the material thickness, the brand etc. We can have the video call and I will show what we have in the factory;
Also you can visit us to see the machine;
Q: If the quality doesn't meet my requirement, how can you solve this problem?
A: Before ordering the machine, we will negotiate the machine inspection standard. Then start production; If you are not satisfied with the quality, show us, we will re-do it before shipping;
Q: How can I get the machine?
A: Our company have the export license, so we can help to ship the machine to discharge port that you are available.
Q: How can I install the machine and commissioning? Do you have the technician to my factory?
A: We have the technician available to your factory for machine installation and commissioning; BUT client should be responsible for the round-way flight tickets, technicians' daily salary, local transportation, local hotel and eating.
Q: Do you provide customized service
A: We can design the machines according your requirements (materil, power, filling type, the kinds of the bottles, and so on), at the same time we will give you our professional suggestion, as you know, we have been in this industry for many years
.