Auto thermoforming packaging machine
Thermoforming Machine is a fully automatic vacuum packaging machine and is applicable for vacuum, gas-filling and skin packaging of foods, meat products, seafood, fruits, vegetables, pickles, cooled meat, medicine products, metal elements, and medical apparatus.
It's an automatic packaging machine. It's able to finish the whole process from package forming, filling/loading,sealing to final cutting.
With special technology, it's helpful to increase your capacity, lower your cost, and make your product more fresh and appealing.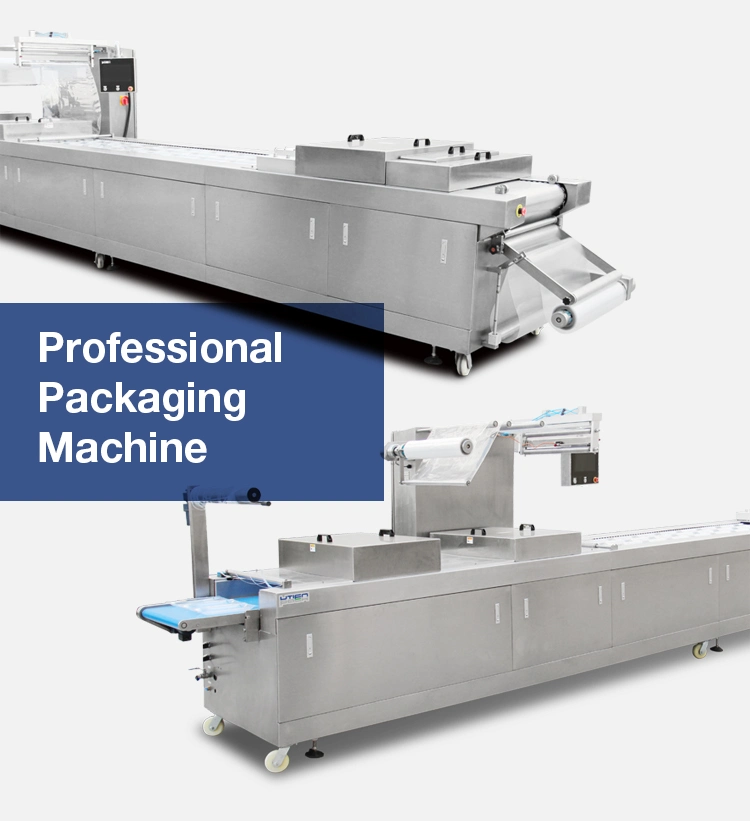 Advantages:
1) High capacity---produce over 10,000 small packs per day
2) Cost effective---saving over 30% cost than traditonal packing
3) Easy operation---by finger touch on PLC screen.
4) Reliable quality---spare parts of international top brands.
5) Flexible design--- Various package shapes,volumn and output
A. Nice apprearance.
Customizing packages shapes are designed for different products

B. Long shelf life
Various packaging options are offered for the top freshness.

C. Easy tear corner
Special tear corner is designed for quick and safe package peeling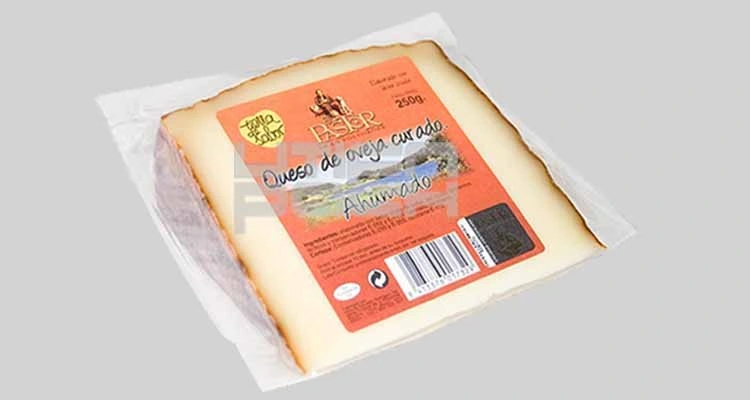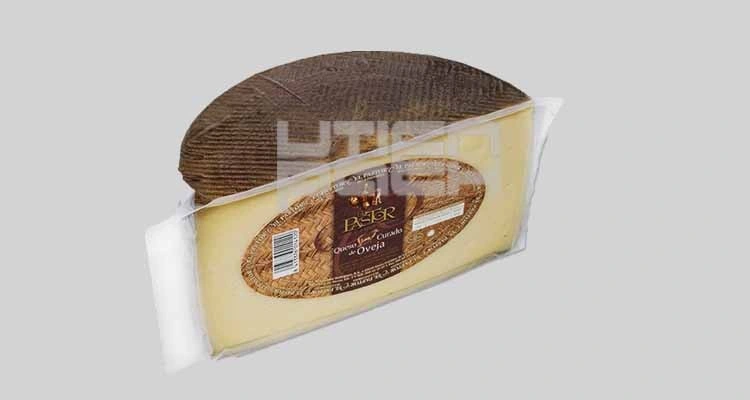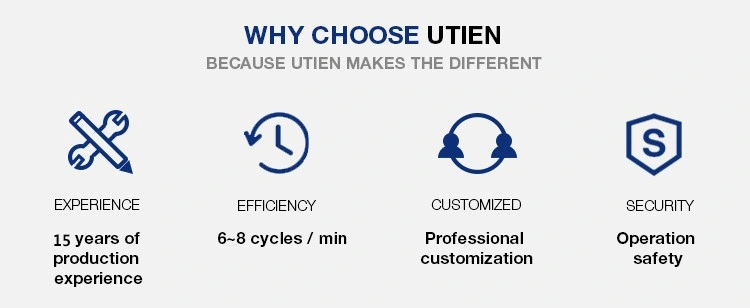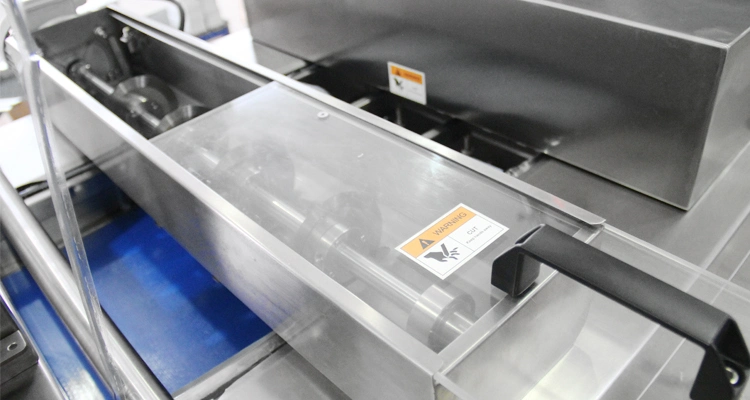 1.TOP SAFETY
Safety is our top concern in machine design.To ensure the security of worker and machine,many sensors are installed under the cover, inside the door and other removable parts to make sure the machine can auto-stop while the covers and doors are open.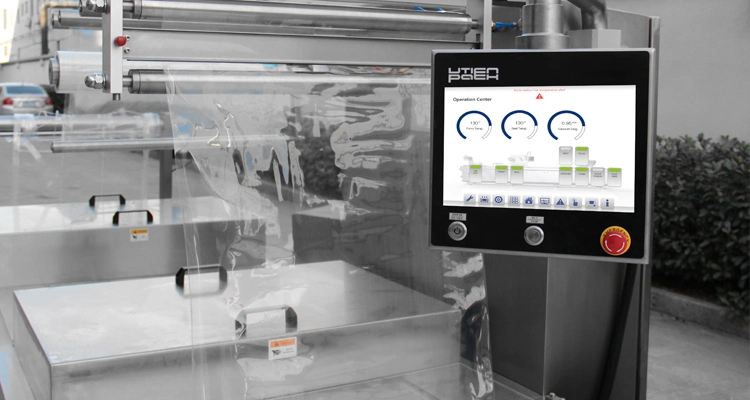 2. HIGH AUTOMATION
The machine is fully automatic from package forming to final product output. And it can be fully controlled by 10'' PLC touch screen.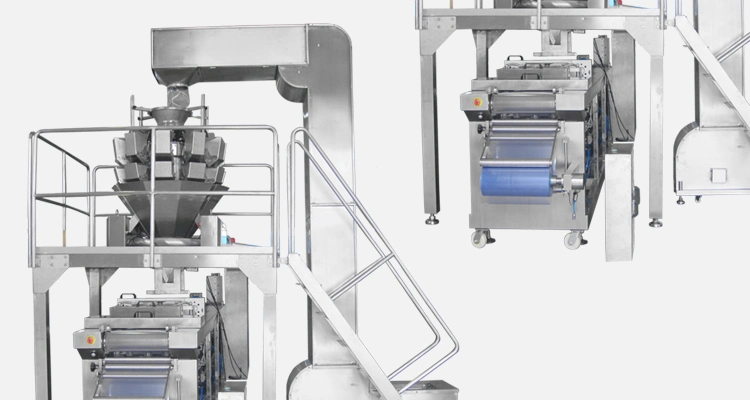 3. INDIVIDUAL DESIGN.
We have a team of engineers to design every machine detail for customers' sastification.Also we're capable to apply other third party equipment to make a better auto packaging line.
Dimension

6000*1300*1870mm

Weight

2000kg

Working height

1000mm

Operating panel height

1600mm

Loading area length

1500mm
Bottom film width

≤600mm

Advance length

≤500mm

Forming depth

≤150mm
Material

Sealable PE\PA Multi-layer Co-extruded Plastic Film

Print

Pre-printed Top Film or Transparent Top Film

Roll diameter

≤250mm

Thickness

≤200um
Material

Sealable PE\PA Multi-layer Co-extruded Plastic Film

Print

Pre-printed Top Film or Transparent Top Film

Roll diameter

≤500mm

Thickness

≤300um
Vacuum Pump

BUSCH(Germany)

Electrical Components

Scheneider(French)

Pneumatic Components

SMC(Japanese)

PLC, Touch Screen & Servo Motor

DELTA(Taiwan)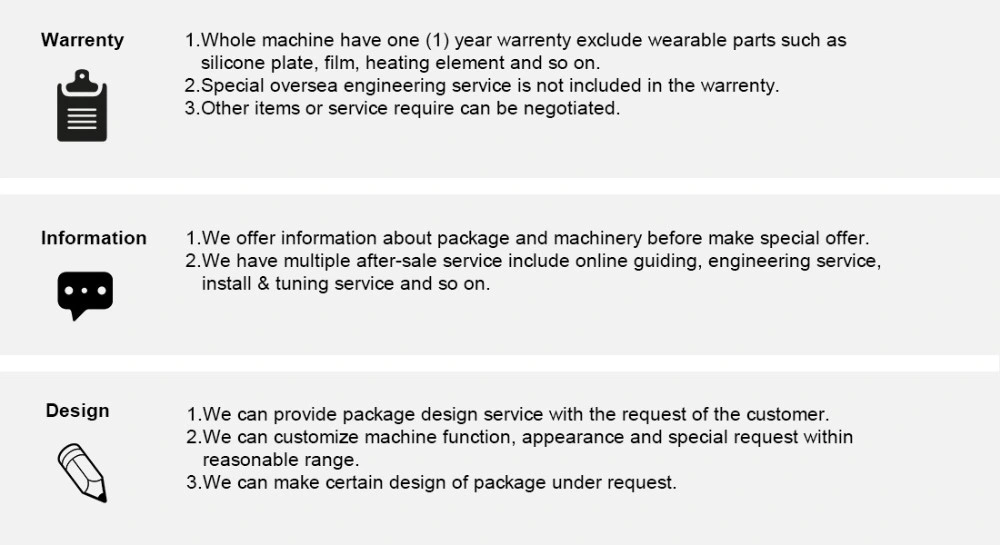 Q1.How long does it take to deliver the machine after the order & deposit?
A1:Usually it will take 90 working days to manufacture the machine and make it ready to deliver. At first 30 days the technical drawing will be made. The second 30 days start manufacturing the parts and ready to assemble. In the last 30 days the machine will be assembled and tuned to make sure it is ready to deliver.
Q2:What do you need to make a specific offer for my product?
A2:To make a special offer we will need the dimension(s) of the package(s) you want to use on this machine. We also need the approximate production volume you need per day. If with other special request please also inform us before we make the project.
Q3:Can you offer oversea service?
A3:Yes, if request. But we suggest online problem solving at first. If the problem still shows we can arrange engineer to go to your factory personally to solve the issue.