High power JPT M7 60w 80w 100w 150w 200w 3D dynamic focusing fiber laser machine for
curve surface and large range 3d laser marking
Introduction
3D curve surface making is different from flat marking and it has higer demands for the machine marking system. 3D dynamic fousing system can help to quickly change the laser focal length and laser beam position for better marking effect. It is suitable for large size flat marking and curve surface marking which need to change the focal length whenever necessary during marking.
Application
3D Curve Surface Dynamic Focusing Fiber Laser Marking Machine is suitable for all kinds of metals and nonmetals laser marking on 3D surface. 3D laser marking machine is widely used in mobile manufacture, cubic circuits, medical equipments, moulds, 3C electronics, auto parts, electronic communication, etc.
The main structure of the machine






Main structure of the machine



Feeltek Scan head

the general 3D scan head head can not withstand the intensity of high-power laser, will cause damage to the marking head, but Feeltek scan head Can complete the marking work




LenMark-3DS Control Program

LenMark-3DS Control Program which can be high quality process on 3D carved surface and relief




Multi-function control card

It supports Win2000/XP/Win7/Win8/Win10, 32/64 bit system, Longer stable life.


JPT M7 Laser source

1.with 3 years warranty

2.Each piece has test report and has a sole serial No,Service life is up to 100,000 hours and maintenance-free during this period.

3.The frequency adjustable range is more extensive(

1-4000KHZ

),

and the pulse width value

is larger

(

2-350ns

),

which can be suitable for the

marking work of a variety of materials.






Application

Applicable material

Suitable for processing high hardness metal, pig iron, stainless steel, aluminum-magnesium alloy, aluminum oxide, copper, nickel plating, etc.

Applicable industry

"Marking Master" of three-dimensional workpieces such as lamps, molds, 3C electronics, automotive parts, electronic accessories, and craft gifts






Machine parameters
Model

RF-F-100W

Standard Marking Area

75x75mm--600x600mm

Main board and control software

Multi-function control card

Nominal average output power

>100W

Laser Source

JPT M7

Adjustable frequency range

1--4000KHZ

Maximum single pulse energy

2.0mj

Marking speed

8000mm/s

Output beam diameter

6±0.5mm

Min. linear width

0.001mm

Wavelength

1064NM

Min. Character size

0.1MM

Repeated positioning accuracy

<20 urad

Supply voltage

AC 110/220V±10%, 50/60Hz

Cooling way

Air cooling

Approved

CE,FDA
Machine packing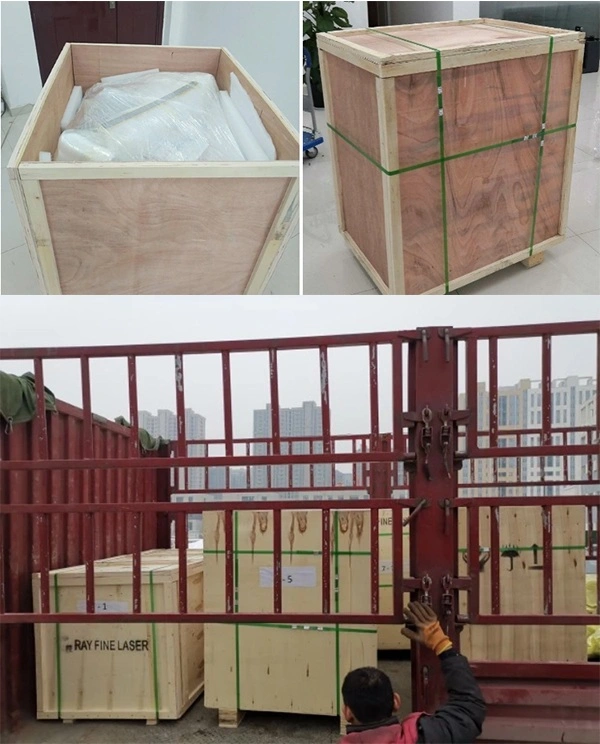 Collect
all accessories and spare parts one by one according to the order list, and check all parts carefully again to ensure that all parts are included.
Our
packing standards:
+ Thick fresh-keeping film
+ Hexahedral pearl cotton
+ High Strength Wooden Box
+ Packing the belt and fixing the machine to ensure the safety of the machine during transportation.
Paste
transport marks to ensure that the buyer can easily identify the correct machine.
Posting
safety signs can remind shippers to take good care of our equipment during transportation.
Our service
Pre-sale service
1.* Free sample marking
For free sample testing, please send us your file, we will do marking here and make video to show you the effect,or send sample to you for checking quality.
2.*Customized machine design
According to customer's application, we may revise our machine accordingly for customer's convenience and high production efficiency.
After-sale Service
1.*Before delivering the machine, we will test and adjust it, so you can use it directly when you get
2.*If you have problems while using, 24hours online professional advice available.
3.*Lifetime software free upgrades.
4.*Fiber laser source we warranty for 3 years ,the other parts warranty for 2 years.
5.*Express delivery to door service
6.*We have professional staff to explain the instructions of the machine and the problems you have encountered.
Company Profile and certificate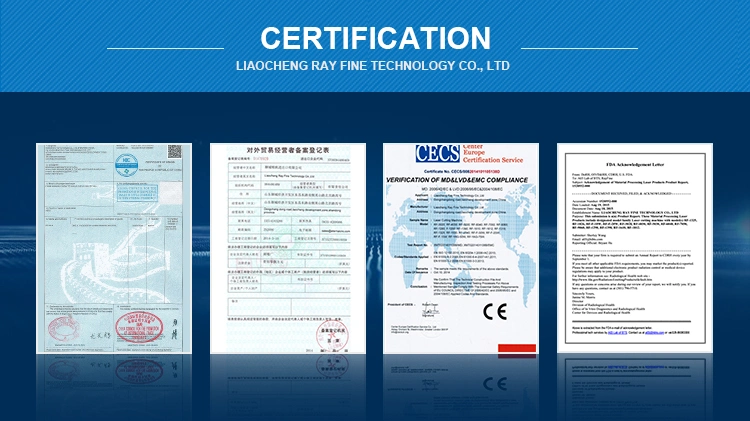 Liaocheng Ray Fine technology CO.,Ltd was established in 2014, one special supplier of CNC laser equipment combined with produce,research and sales.Ray fine products covered:Laser cutting machine,laser marking machine and CNC router etc. Our CNC laser products has been sold to more than 100 countries of worldwide. such as Europe
America,southAfrica,japan,korea,
And enjoyed good reputation.

We have many different model machine(such as Raycus/JPT/IPG fiber laser marking machine)
and also have many different machine styles(such as portable/desktop/close machine ),
Please feel free contact me if you are need our laser marking machine,It's my pleasure to serve you.