What is UV fiber laser marking machine?
UV laser marking machine, also known as ultraviolet laser marking machine, belongs to a series of products of laser marking machine, but it is developed by using 355 nm ultraviolet laser, Compared with infrared laser, 355 nm ultraviolet focusing spot is very small, which can reduce the mechanical deformation of materials to a great extent and has little influence on processing heat.
UV fiber laser marking machine application:
It is mainly used for super-fine marking and sculpture, especially for marking food, medical packaging materials, microporous, high-speed partitioning of glass materials and the complexity of silicon wafers. Graphic cutting and other applications. A kind of

Unlike the evaporation of surface material produced by long-wave laser, the effect of marking by UV laser marker is to directly interrupt the molecular chain of material by short-wavelength laser, thus showing the pattern and text to be etched.
UV fiber laser marking machine advantages:
(1) Reduce product damage The heat-affected zone of ultraviolet laser marker is small, so it can avoid damage to processing materials
(2) The diameter of laser spot is greatly affected by the wavelength of light. The UV wavelength (355 nm) is one third of the basic wavelength (1064 nm), so it can reduce the size of the light spot and print in limited space.
(3)UV laser marking machine has high average power and high repetition frequency, so the marking speed is faster and the production efficiency can be effectively improved.
| | |
| --- | --- |
| Model | RF-UV-10w |
| Laser type | UV laser marking |
| Wavelength | 355nm |
| Single pulse energy | >125μJ@40kHz |
| Pulse duration | <20ns |
| Laser beam quality M2 | <1.2 |
| Frequency | 10-200KHZ |
| Marking Area | 110mm×110mm(optional) |
| Cooling type | Water cooling |
| Controller | computer with marking software |
| Control program | Genuine EZ-CAD control system Compatible with win7/8/10 |
| G.W. | 95KG |
| Package(L*W*H) | 980*800*110mm |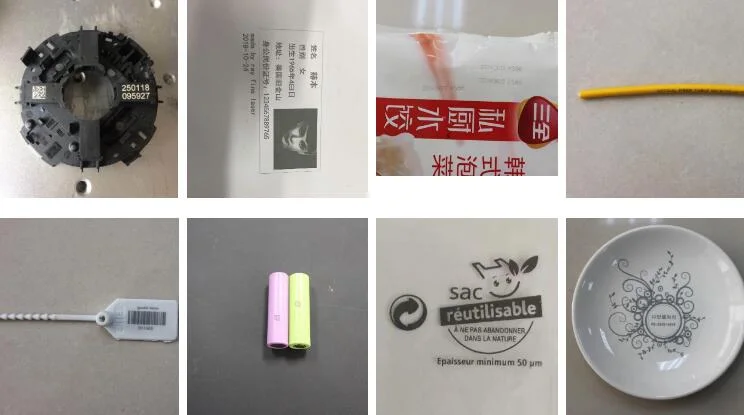 We can provide free sample testing service,If you need it, please feel free to contact me. It's my pleasure to serve you.



Industry chiller

Can cool or heat the laser source to better extend the life of the laser source


Huaray UV laser source

Stable output of power and pulse width
Excellent beam quality, M²<1.2
High beam pointing stability
Wide repetition rate range:20-200kHz
Controllable with RS232 interface
Unique Intracavity frequency doubling technology.



Galvo head

Best quality scan head in China


Genuine BJJCZ board
Quality Genuine EZCAD control software and program(BJJCZ brand) which support XP WIN7 /8 /10 32/64 bit operating system.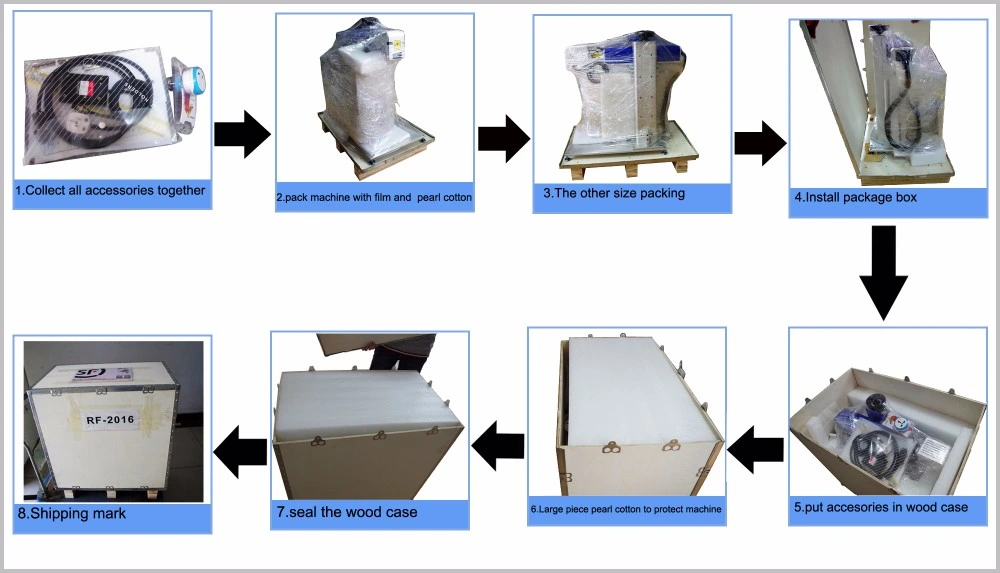 Collect
all accessories and spare parts one by one according to the order list, and check all parts carefully again to ensure that all parts are included.
Our
packing standards:
+ Thick fresh-keeping film
+ Hexahedral pearl cotton
+ High Strength Wooden Box
+ Packing the belt and fixing the machine to ensure the safety of the machine during transportation.
Paste
transport marks to ensure that the buyer can easily identify the correct machine.
Posting
safety signs can remind shippers to take good care of our equipment during transportation.
Pre-sale service
1.* Free sample marking
For free sample testing, please send us your file, we will do marking here and make video to show you the effect,or send sample to you for checking quality.
2.*Customized machine design
According to customer's application, we may revise our machine accordingly for customer's convenience and high production efficiency.
After-sale Service
1.*Before delivering the machine, we will test and adjust it, so you can use it directly when you get
2.*If you have problems while using, 24hours online professional advice available.
3.*Lifetime software free upgrades.
4.*Fiber laser source we warranty for 3 years ,the other parts warranty for 2 years.
5.*Express delivery to door service
6.*We have professional staff to explain the instructions of the machine and the problems you have encountered.
Liaocheng Ray Fine technology CO.,Ltd was established in 20
14
, one special supplier of CNC laser equipment combined with produce,research and sales.Ray fine products covered:Laser cutting machine,laser marking machine and CNC router etc. Our CNC laser products has been sold to more than 100 countries of worldwide. such as Europe
America,southAfrica,japan,korea,
And enjoyed good reputation.
Hope cooperating with you.
Welcome contact me if you have any question about our product.It's my pleasure to service you.