Automatic Spice Powder Pouch Packaging Machine for Zipper Pouch/Bag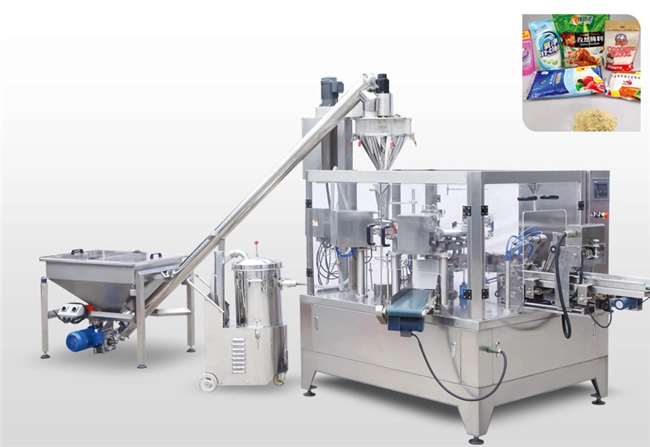 Description:
1.The pre made bag packing machine is fully automated operation, it can achieve product packing assembly line work,and improving production efficiency and significantly reduce product cost.
2.The automatic packaging machine conforms to the food processing machinery's sanitation standard. On the machine, the spare part which contacts with the material and pouch conforms to the standard of food sanitation request on material processing, food health and security guarantee.
Application:
Rotary packing machine is developed for premade pouch, stand-up pouch with or without zipper.
Powder:
gourmet powder,
milk powder,coffee powder,wash powder
chicken powder, seasoning powder
.
Liquid and Paste:
hand sanitizer, shampoo, lotion, cream.cosmetic Fruit juice, tomato paste, sauce, chili sauce, edible oil and so on.
Granule:
candy, fruits, nut, pet food, roasted seeds, puffed food, frozen food, small hardware
. Seeds(Pulses),Coffee(granules/beans), Tea, Sugar,
Grated Cheese, Bakery Products, Candies & Confectionery, Rice, Nuts & Dried Fruits, Spices, small Pasta pieces, Pet Food(pellets) etc.

Feature:
1.Easy to operate. The machine with Japan Mitsubishi PLC control, man-machine interface with touch screen control system, it can be operate easily.
2.Frequency control. The machine with frequency control, the required speed can be adjustable within the range according to any needs of reality in production.
3.Automatic detection. No pouch or pouch is not opened completely, no feeding, no sealing,pouch can be reused, avoid wasting materials, it can reduce production costs for user.
4.Safety devices, when the abnormal pressure of work or failure of heating pipe, it will alarm.
5.The width of the bags could be adjusted by electrical motor. Press the control-button could adjust the width of clips, easily operate, and save time.
6.Part of plastic bearings are imported, no oil, reduce polluion materials.
7.Use no oil vacuum pump, avoid polluting the environment in the production.
8.The packing materials loss low, what this machine is used the preformed bag, the bag pattern is perfect and has high quality of the sealing part, this improved the product specification.
Option Part of Weighing&Packing System
1
Z Type Bucket Elevator
--- ---for conveying material( Not for Powder)
2
Multihead Weigher
( 10head, 14head, 20head...) --------for weighing(not powder)
3
Screw Conveor & Auger Filler
---------
--
--This is for Powder material Conveying
4
Working Platform
304 stainless steel--
-------for supporting equipment
5
Finished Product Conveyor
---
----for conveying and collecting of finished product.
Model of Multi-head Weig
h system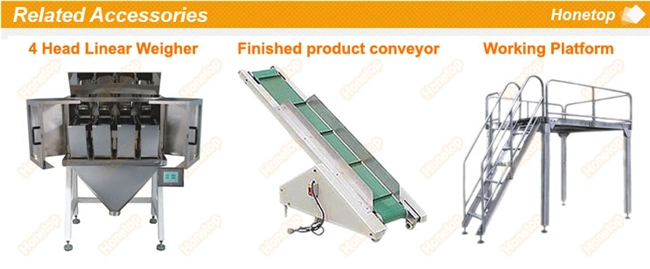 Model of Liquid & Paste Filler(Servo-motor drive)
1-It can apply in: measure liquid and ketchup like syrup, red
eye,peanut butter,scour and so on.
2-
th
is machine is semiautomatic piston style liquid canning machine.
3-The design of the machine is in reason with artful model , and it is
convenient to handle.
4-The part where touch to the material is made of stainless steel is accord with the request of GMP.
5-The canning mete and career can be adjusted, it is accurate.
6-The canning cobbra of the machine use the setting of defending leak
and draw bench.
7-Double hopper,thermal insulation, With fluid control devices
Model of Bucket elevator(Include Feeder)
This kind of elevator is used mainly to convey the solid food ,such as rice, chip potato ,candy ,etc.it composes the automatic quantitative packing system combined with the weigher and packing machine, which is applying widely. Be made of 304 stainless steel and plastic (PP) which is hygienic and healthy .the elevator is
controlled automatically.
Process: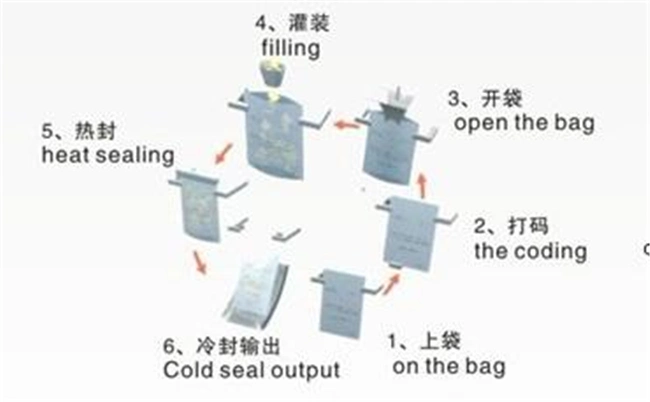 Main technical parameters
Model

GD8-300

GD8-250

GD8-200

Working position

eight-working position

Pouch material

Laminated film\PP\PE etc.

Pouch pattern

stand-up,Flat

Pouch size

W:200-300mm




L:200-450mm

W:150-260mm




L:150-350mm

W:100-210mm




L:100-350mm

Speed

8-30bag/min

8-35bag/min

10-60bag/min

Weight

1400KGS

1200KGS

1000KGS

Voltage

380V 3phase 50HZ/60HZ

Total power

4KW

4KW

3KW

Compress air

0.6m3/min(Provided by the user)

Safety Device:
1.No puoch or open error,no filling .
2.No pouch or no filling ,no sealing .
3.The safety door open,alarm.
4.No coding ribbon,Emergency stop and alarm.
5.The air pressure not enough ,alarm.
6.The sealing temperature abnormal ,alarm.
Production room: