It has four degrees of freedom: left and right rotation, up and down lifting, front and back extension, and end rotation. It can meet the requirements of product handling and loading and unloading between punching machines (or other stations) of different heights and distances.
The main rotation axis adopts the robot RV harmonic reducer, which has high precision and long life.
The center of gravity of the arm is close to the center of rotation, and the vibration of the body is small when the arm rotates at high speed.
Multiple units can be connected for operation, or single machine and single punching operation.
Electric box and host _ integrated design, occupying less space, easy to install and move.
Using intelligent programming system, drag-type teaching, easy to operate and easy to learn, programming only takes 3-5 minutes when changing molds.
High rigidity 3D structure design, integral casting mold opening, stable structure, vibration resistance and small deformation.
Using man-machine interface operating system, high performance value servo drive, smooth operation. Automatic fault diagnosis and recording, convenient for maintenance and troubleshooting.
The application of integrated control circuit and optimized main structure design makes the equipment life longer, and has obtained multiple patent protections.
The punching manipulators can be customized to meet the requirements of different loads and arm lengths according to customer requirements, providing supporting feeding systems, turning devices, and pneumatic, electromagnetic, cylinder grippers and other fixtures.
asic parameters of the robot body
Four-axis stamping (horizontal handling) manipulator, arm model: XT-CY4Z-05
All axes are driven by servo motors
J1 axis (up and down lifting axis) adopts 750W servo with brake, screw drive, Taiwan TBI brand, guide rail HGH25 guide rail Taiwan Shangyin brand.
J2 axis (main rotating axis) adopts Japan Xinbao hollow robot reducer + Hekawa absolute value 750W servo.
The J3 axis (front and rear telescopic axis) adopts 400W servo, belt drive, belt German Opit brand, guide rail Taiwan Shangyin brand.
The J4 axis (rotation axis in the X axis direction of the arm) adopts 400W servo + domestic planetary reducer.
The J5 axis (the end horizontal Z axis turning axis) adopts 400W servo + domestic planetary reducer, belt drive, and the German Opit brand.
The body of the robot and the main rotating shaft shell are all open-molded castings, with an integrated structure, high strength and beautiful appearance.
Device model
Maximum loadactive radiusRepeated positioning accuracyRange of motionMovement speed
² Maximum load: 5KG, active radius: 1250MM
² Repeat positioning accuracy: ±0.1MM
² Installation method: floor type
² J1 axis up and down stroke: 400 MM J2 axis main rotation angle: 270°
² J3 axis telescopic distance: 500MM J4 axis rotation angle: 220°
² J5 axis rotation angle: 270°
² J1 axis maximum lifting speed: 1.6M/S J2 axis maximum rotation speed: 225°/S
² J3 axis maximum telescopic speed: 2.0M/S J4 axis maximum rotation speed: 360°/S
² Maximum rotation speed of J5 axis: 360°/S
² Equipment weight: 200KG Ambient temperature: 0-45 ºC
² Humidity: 30% to 95% maximum, no condensation
² Body spray paint: off-white (other colors can be specified)
² Efficiency: J2 axis 180° swing angle grasping and placing measured single cycle time is 4.8S.
Controller system
² Industrial robot control system based on touch screen + PLC
² All Chinese 7-inch touch screen operating system.
² Built-in punch industry programming software technology package, support drag teaching function.
² Support multiple product program storage, with connection with any punch, interlocking function.
² Two adjacent robots have the communication function and support the switching of loading and unloading from left to right or from right to left.
² The internal integrated user control signal supports the control of the peripheral gripper.
² Equipped with digital display vacuum detection device.
² All external connections are connected by quick plugs.
² Maximum power: 3.05 KW.
² Electric control box: integrated electric box.
² Equipped with a bracket type movable teaching box, the cable length of the teaching box is 3m.
² Protection level: ISO5 level.
² Humidity: up to 95%, no condensation.
² Ambient temperature 0-45 °C.
Power supply: single-phase transformer, single-phase plus ground wire, 220V voltage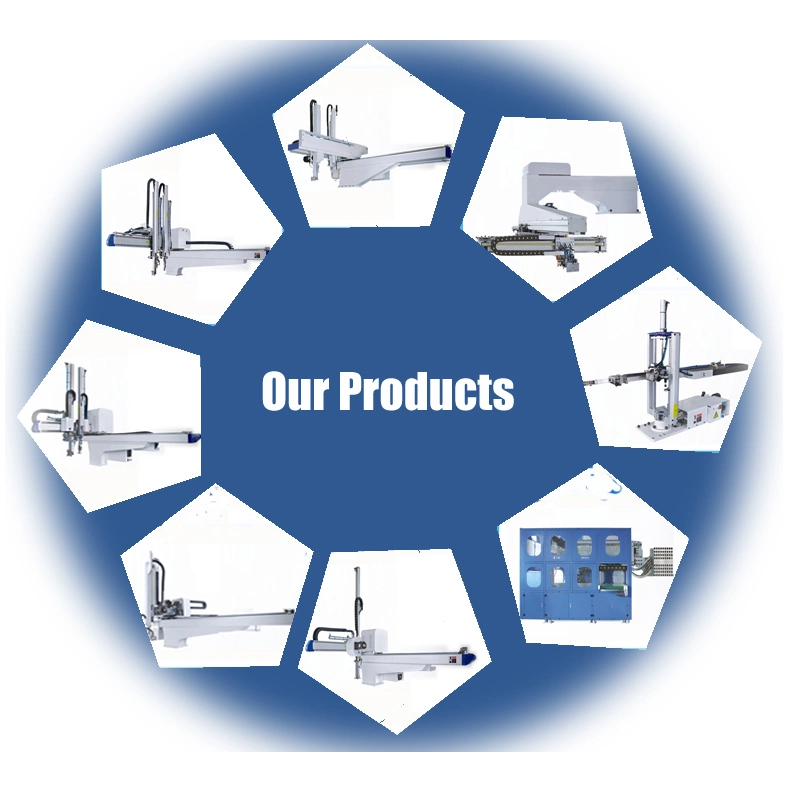 XT-CY-5Z-05
5KG
1250MM (including fixtures up to 1500MM)
±0.1M
J1 axis up and down stroke
400 MM
J2 axis main rotation angle
270°
J3 axis telescopic distance
500MM
J4 axis rotation angle
220°
J1 axis maximum lifting speed
1.6M/S
J2 axis maximum rotation speed
225°/S
J3 axis maximum telescopic speed
2.0M/S
J4 axis maximum rotation speed
360°/S