Automatic Capsule Filling Machine
Specification
Automatic capsule filling machine is Small size,low noise with PLC and touch screen control, operates steadily and reliably.
Main Features
:
1. NJP-1200 automatic capsule filling machine has been improved the inner design turret, and imports beeling bearing for each machine from japan directly, so that it can be sure a longer usage life and precision of the machine.
2. The working station cam runs under the good lubricating condition, and maintains the inner lunbrication of cam slot to a full extent, increasing the pressure pulverization oil pump, thus extends the operation life of the spare parts.
3. It adopts enlarged cam, tianhong has becoje the one who matched the cam of RU100 to RU 83, while it enhanced the stability of the machines and extends the life of the machine to a great extent.
4. It is controlled by the computer, has as stepless timing with the frequency conversion the numeral showing makes an easy operation and clear appearance.
5. The multi-bore dosing bring a precision dosage; the good capsule applicability makes a high capsules qualified rate more than 99%. It can be filled with the Chinese traditional medicine and the western medicine.
6. Add the extra function of capsule control switch. Control the capsule outside of the machine, it is more safely and quickly.
7. Add the click-moving control system, make and easier operation and clearness.
Machinery Characteristic:
1. Working steady, safe and reliable enough.
2. Capsule qualified rate is more than 99% with the precise dosage.
3. Timing frequency-conversion, programmable controlled.
4. New closed structure, accord with GMP standard.
Technical Parameters:
Model

NJP-400C

NJP-800C

NJP-1200C

NJP-2000C

Weight (kg)

700
800
900
1500

Overall Size (mm)

720x680x1700

930x790x1930x

1020x860x1970

1000x1050x1950

Motor Power (kW)

3.32
4.9
5.75
6.45

Power Supply

AC 380V/ 50Hz

Max. Production Capacity (pc/min)

400
800
1200
2000

Models can be filled capsules

00#~4# and safe capsule A~E

On the chances of the capsule

≥99.5%

Noise

≤75dBA

Load Difference

300mg more than=<±3% (granulated, after 40 to 80 mesh granulated particles filling)

Compressed air

0.06m3/min 0.3Mpa

0.09m3/min 0.3Mpa

Water Requirements

Water ring vacuum pump with tank recycling, but also external water.

The degree of vacuum

-0.02~0.06Mpa

Water flow

250L/h

Inlet pipe inner diameter

20mm

Drain pipe inner diameter

27mm

Working temperature

21ºC±3ºC

Working plant height requirements

Artificial feeding≥2.6m, vacuum feeding≥2.8m

Operating humidity

40-55%

Displacement

300m³/h

Special function

Pellets can increase the filling means; functional powder collector

(part of the powder filling recovered by another line, without disinfection, sterilization, filling can be directly added to the

hopper again)

Control system

Stepless frequency conversion, PLC control

Material

The parts that Directly contact with the capsule and Drug are made of 304 and 316L stainless steel.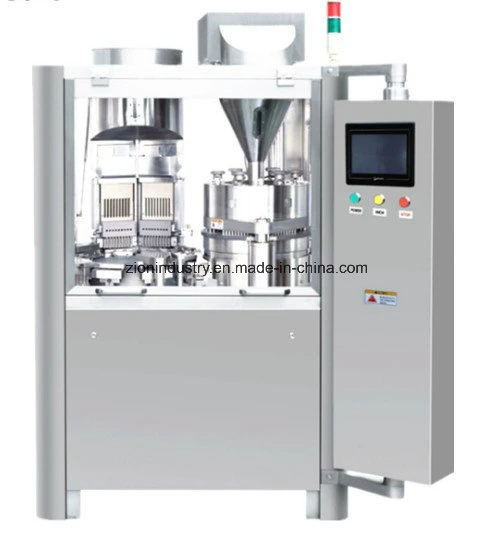 Company information

HK Zion Industry Co., Ltd. is a professional manufacturer and supplier for pharmaceutical machinery, pharmaceutical packing material company with good reputation in China and global market.

Our company focus on pharmaceutical machines that meets or exceed our customer' Expectations. Our vast product selection caters to numerous industries, worldwide. We are specializing in machinery including, pulverizes, mix, Granulate, tablet press machine, coating machine, soft capsules filling machine, hard capsules filling machine, ampoule filling and sealing machine, oral liquid filling production line, syrup machine, eyes drop filling machine, lyophilized powder production line, injectable vial powder filling production line, Ointment machine, Suppository machine, spray filling machine, pharmaceutical testing and experiment instrument, traditional Chinese medicine machine and packing materials. The packing materials including pharmaceutical PVC, PTP aluminum film, hard aluminum, vial, stopper, aluminum stopper, ampoule, glass, capsule, packing strap of suppository physic. Meanwhile, we can undertake turn key projects for conceptual design, process design etc.

With high quality and competitive price to our customer, our machines have been exported many countries of world.In order to offer the best quality, we manufacture our products in accordance with international standards, such as FDA, GMP, cGMP.

We have established business relationship with many directly customers and have many agencies from abroad.
Customer service including technical support, installation & commissioning after sale.

We will warmly welcome the customers contact us for any requirement



After Sales Service:
We provide high quality after sales service. All what we do is customer-centered and we do what the customers demand. We offer a one-year warranty!

Installation Services:
We will test the machine before shipment, and instructions and videos will be afforded to teach you how to install and use the machine.

Customization:
All machines can be customized according to your requirements, tell us your requirements, we can custom made a machine for you.

Quality guarantee:
1. Each machine undergoes rigorous testing before shipment.
2. Each machine uses high quality electrical components.
3. After-sales service commitment: Within 3 months after receiving the machine, we will contact you by phone or email to knowledge your using situation of the machine.
4. The warranty period is one year: During the warranty period, if any product is damaged or damaged, we will provide repair service for free or free replacement, but the customer pays the freight from China to the local. location. If we need our engineers to help, the customer needs to pay for the return shipping.
5. After the warranty period, we will continue to provide after-sales service. We promise that if your machine parts were damaged within 10 years, and you can purchase suitable replacement parts from our company.





FAQ:

Q:How to choose the suitable one?

A:Please tell us your detailed requirements by mail or online,we will recommend the suitable one
as your request.

Q: How long need to ship the machines after order
A: All machines can be ready and shipped in 15 or 30 days after order!


Q:When I receive it after pay?
A:The normal models can be sent out within 7-10 days,please contact us to check shipping time to your address.

Q: What's the payment you prefer?
A: Our standard payment terms are T/T with 30% deposits and balanced before shipment.

Q: Why should you choose our tablet press and packing machine?
A: We are professional in tablet press and packing machine, Our machines have been exported to Asia,USA, EU and Middle East..


Q:Is it will be broken during transport?
A:Please don't worry,our goods with standard export package.

Q: Can you provide after-sale service?
A: Yes, sure. We have engineers available to service overseas.

Q: What is our advantages?
A: 1. Competitive price
2. Excellent technical support
3. Best service.
4.High quality machine