YUPACK new condition Vacuum Tray Sealing Machine&Tray sealer machine

1. Description of DMP-430 vacuum tray sealing machine
The vacuum and Gas Flushing MAP Machine packaging machine DMP-430A is developed and researched independently by the manuafacture itself on the basic of vacuum packaging machine and gas-ajustment packaging machine. It is our patented products. It is characterized by bolve construction, stable property, etc
Compared to the box-type(MAP-450) gas-adjustment freshness-retaining packaging machine, it shares the same properities and packaging result. But at the same time it is more competitive in price than th former one.

2. Main features of
DMP-430 vacuum tray sealing machine
1

.
We have put forward a specifically-designed vacuum gas-adjustment freshness-retaining packaging machine for the chain stores. supermarkets, franchised stores, labs, and the small-sized foodstuff manuafacture.

2. Multifunctional puporse;it can not only pack the materials but also can pack them into bags. Take out the box moulds and then assemble the hot bars and up mould frames, it then can pack, pump vacuum or aerate the pack. It is easy for the user to assemble them. This is why it is multifunctional. It can meet to some instant the needs for different packages and thus reduce your cost.

3. This machine employs machanic, electric and pneumatic integrated controller, with a programmable controller PLC and 10.4 inches man-machine interface. The user can only set the parameters once according to the freshness retaining requirements for different foods and can finish the required operations. It true stably and accurately.

4.Pack the packed ones; it has auto and hand mould cuts(for your option), it employs changeable mould in desigh. So a machine can be suitable for trays of different sizes. The user can replace the trays according to the sizes of the packs. The mould for this machine are made of all alloy and met with the food hyginene standards.

5. It employs alright vacuum substitition mode and the vacuum pump to pump vacuum the airtight vacuum chember to have it become a higher vacuum. Then it fill into the mixed gas for freshness retaining suitable for the food to prelong its perioud of freshness retaining. The foods packed in gas adjustment will keep its original flavor, taste, color, shape and nutrient. At the same time, the freshness can be kept for a long time.
3. The advange of our Tray Sealing Machine&Tray Sealer Machine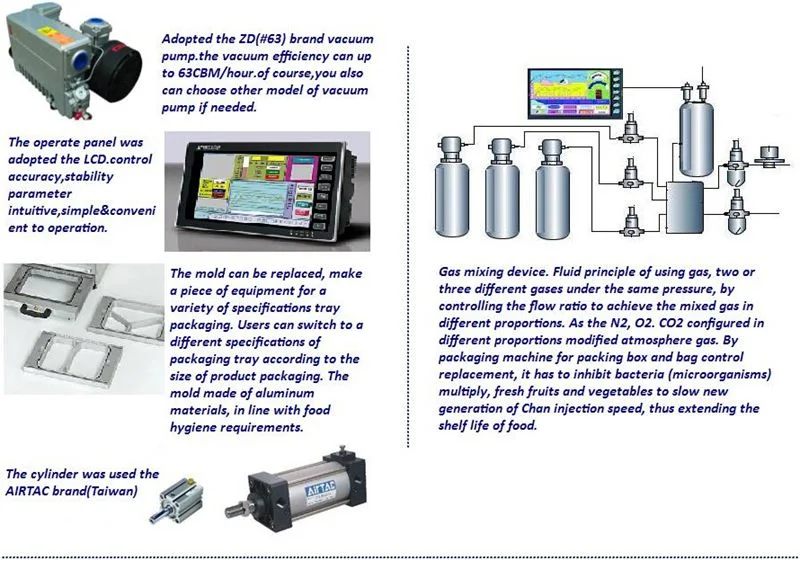 3. Technical Parameter
Model

DMP-430M

Max size of tray

430*305*100mm(can be customized)

Machine size

1050*720*940mm

Packing efficency

1~3times/min

Voltage

220/380v 50hz

Air supply

0.6~0.8 mpa

Pump Power

1.1/1.5KW

Machine weigth

145kg

Category of Mix gas

(

N2 O2 CO

2

)
4. Packaging and shipping&after sale serveice
Packaging: by wooden box

Shipping: from Qingdao port or others depending on you

After sale service: Offer one year warranty
5. About our company
Qingdao Ausense Packaging Equipment Co., Ltd (YUPACK-AUSENSE) is one of the most professional automated providers in China(Mainland), which is specialized in research and manufacture of automatic packaging machinery and conveyor. We have been making vacuum packing machine for 10 years.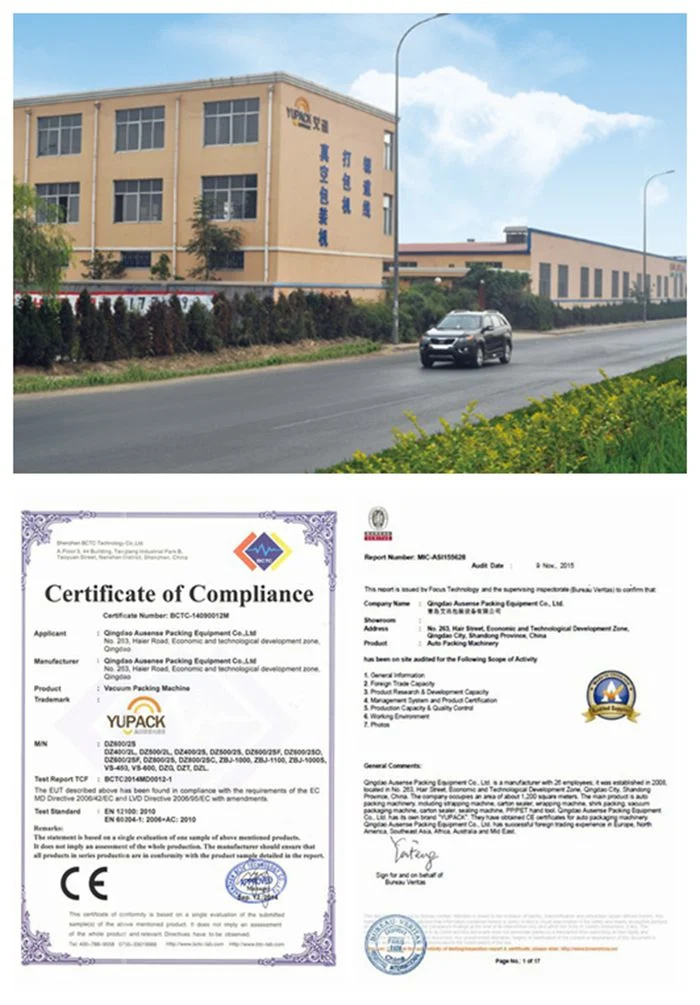 In domestic market, Ausense's product has gain the favour of many world top 500 enterprise in china. In global market, Ausence's product have export to
North America, South America, Eastern Europe, Southeast Asia, Africa, Oceania, Mid East, Eastern Asia.
Ausense could design many kinds of machines at present. With a team of high qualified managing technical staffs.